---
Senior Multiplayer Designer





Veil
---
Jul. 2003 // Natural Selection
With the initial success of Eclipse in Natural Selection 1.0, a follow-up felt like a no-brainer. Veil is essentially Eclipse 2, boasting more varied geometry, more dramatic elevation, and more vibrant colors. Veil was added as one of four new official levels in Natural Selection 2.0.
Veil started as a symmetrical level, providing near-perfect timing to each hive from the marine start, but pure symmetry made for a boring layout. I started hacking up each side over the course of a few rounds of playtests to settle on the layout at release. Veil's layout feels a bit more sterile than Eclipse due to the symmetric base, but the original gameplay benefits remained intact.
Thanks in large part to its layout and timing, Veil also became one of Natural Selection's more popular levels, particularly in the competitive community. It wasn't uncommon to see both Eclipse and Veil ranking first and second in active player count.
Due to its popularity in the original mod, Veil was re-made for Natural Selection 2 by Shawn Snelling and officially added to the game in August 2012.
---
© 2003 Unknown Worlds Entertainment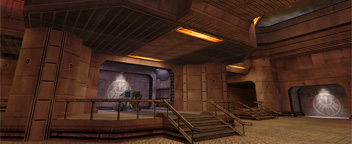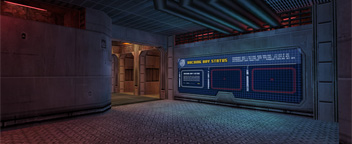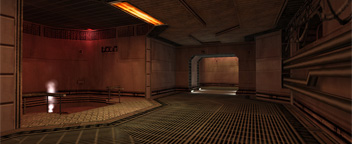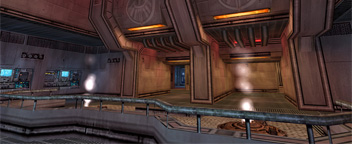 Level by Andrew Weldon